Newcastle United's return journey to the Champions League for the first time in 20 years.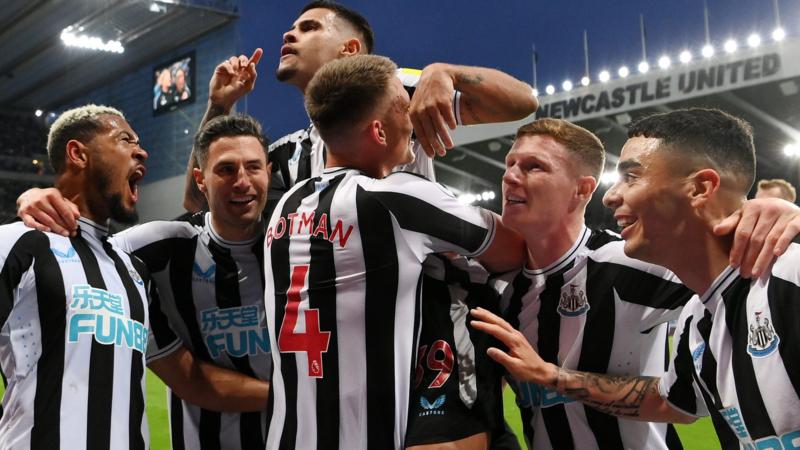 Newcastle United will play in the UEFA Champions League for the first time in 20 years next season, but a harsh reality of a long-time absence awaits them.

The Magpies drew 0-0 against relegation-threatened Leicester City on Monday night and are guaranteed a fourth-place finish with 70 points regardless of what happens between Liverpool and Manchester United.

Eddie Howe has masterminded a dramatic turnaround at the club since his appointment after the Saudi Public Investment Fund took over in 2021.

A 0-0 draw against Leicester on Monday sparked raucous celebrations at St James' Park as Howe's third-placed side confirmed their qualification for next season's Champions League.

Fifth-placed Liverpool's draw with Aston Villa on Saturday meant Newcastle needed just one point from their last two games to be assured of a Champions League place. Howe's third-placed side achieved their target at the first attempt at a jubilant St James' Park.

Howe's third-placed side achieved their target at the first attempt at a jubilant St James' Park.

Howe and his players embarked on a lengthy lap of honor after the final whistle as they soaked up the acclaim from the Toon Army.

"It's a big relief actually, an amazing night. You always hope and you have to dream. But we didn't feel we were ready for the top four," Howe said.

It is an astonishing transformation for a team who were mired in the relegation zone when Howe was hired just weeks after the £305 million ($376 million) takeover from unpopular former owner Mike Ashley in October 2021.

Saudi's Public Investment Fund holds an 80 percent stake in Newcastle, with their presence in the Premier League still a bone of contention for groups who have complained about the country's human rights record.

The 45-year-old has guided Newcastle into the Champions League in his first full season in charge, while also taking them to their first domestic final since 1999.

However, returning to Europe's elite club competition and losing to Manchester United in the League Cup final is not nearly enough to satisfy Howe.

The Newcastle boss has his sights set on winning the club's first major trophy since the 1969 Inter-Cities Fairs Cup.

The team were in the relegation zone, sitting 19th on the table, and in just a little over a year, he has brought them out of the troubled waters and is set for a European adventure next season.

Bold ambition

Newcastle's last major domestic prize came in 1955 when they lifted the FA Cup.

For such a football-obsessed city to go decades without a trophy has been cruel punishment for the long-suffering Toon Army, whose vociferous support forms a significant part of Newcastle's identity as a sleeping giant.

Newcastle have undoubtedly awoken from their slumber but to move to the next level, Howe will have to splash the cash again.

The 45-year-old has already been given more than £250 million to spend on new signings since he was appointed to clean up the mess left by his sacked predecessor Steve Bruce.

Howe is well aware more reinforcements are needed to retain their top-four place next season while navigating the demands of the Champions League.

In the immediate aftermath of the Saudi takeover, Newcastle director Amanda Staveley boldly claimed the club could be "a Man City or Man Utd" within five years.

Transformed from punching bags to Premier League heavyweights, it would be no surprise if Newcastle slugs it out with Pep Guardiola's champions in the title race much sooner than that.

Newcastle's long-term absence costly

The Toons will face a brutal return to Europe's elite club competition next season financially, as they have no coefficient ranking and will settle for low remuneration.

Manchester City are guaranteed £58m before they even kick the ball, while Newcastle will receive £21.5m, less than half of Arsenal, who have also been away for seven years, and Manchester United, who could take the last spot.

They will take less than £1m from the controversial "ten-year historical coefficient pot", with £522m available to qualifying clubs. City takes £28.67m, while United and Arsenal take £24.72m and £21.75m, respectively.

Howe remains humble despite the achievement, and admitted to four was not the goal at the beginning of the season, but he only wanted his team to be better.