Cricket General ICC Men's World Cup 2023
The man behind India's dream run in 2023 World Cup cricket: Rahul Dravid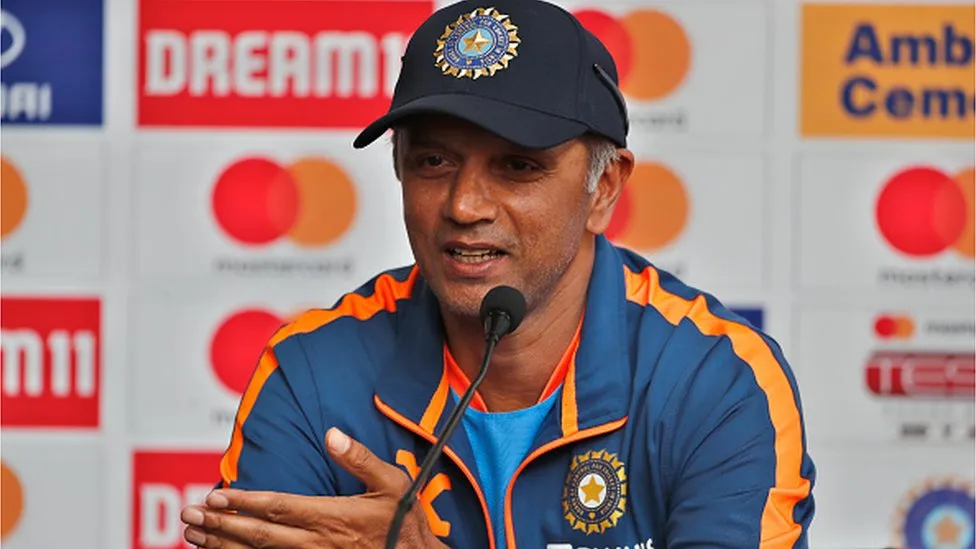 Rahul Dravid, the former Indian cricketer, has left an indelible mark on the sport.

Known for his unwavering determination and solid batting technique, he earned the nicknames "The Wall" and "Mr. Dependable" throughout his illustrious career.

Today, Dravid has ventured into a new role as the head coach of the Indian cricket team, with the opportunity to guide and shape the next generation of players.

In this article, we will go through Dravid's journey from being a legendary batter to establishing himself as one of the coaching greats.

The Glorious Playing Days:

Dravid's class as a batter was evident from the start. His ability to grind it out on the pitch and his refusal to give away his wicket easily set him apart.

One of his most memorable innings came in 2001 when he partnered with VVS Laxman to overturn an almost certain defeat against Australia with a record-breaking 376-run partnership.

In 2004, Dravid showcased his sporting capacity with a 12-hour innings against Pakistan in a Test match, which is still regarded as a great example of grit and determination.

Despite India's disastrous tour of England in 2011, where they suffered a 4-0 humiliation, Dravid stood tall among his peers, scoring 602 runs. His resilience and never-give-up attitude made him a role model for aspiring cricketers.

Transitioning to Coaching:

After retiring from international cricket, Dravid embarked on a new chapter in his cricketing journey – coaching.

He started at the grassroots level, nurturing talent as the head coach of India's under-19 and A teams.

In 2016, he led the under-19 team to the finals of the World Cup, showcasing his ability to groom and develop young players.

Dravid's coaching prowess didn't go unnoticed, and he was appointed as the director of the National Cricket Academy (NCA).

The NCA served as a premium center for players to improve their fitness and recover from injuries.

During this time, Indian cricket was going through a challenging period, with the country's wait for an International Cricket Council (ICC) trophy becoming longer. Dravid's role at the NCA was vital in shaping the future of Indian cricket.

In Charge of the Indian Team:

In 2021, Dravid was given the opportunity to lead the Indian cricket team as their head coach. Many of the current players had been coached or mentored by him at the junior level, establishing a strong bond and familiarity within the team.

However, his journey as a coach wasn't without challenges.

The team faced constant changes, and the departure of captain Virat Kohli in 2022 added another layer of complexity.

Dravid, true to his nature, shut out the noise and focused on the process. He emphasized the importance of believing in the process and not being too bothered by defeats. His eye was firmly set on the World Cup 2023.

The Unbeaten Streak at the ongoing 2023 Men's ODI World Cup:

So far, India has remained undefeated in the World Cup, and only one hurdle stands between Dravid and his long-awaited ambition – winning the coveted trophy.

While Dravid may be desperate to hold the trophy, his demeanor remains calm and composed.

The Rohit Sharma-led Indian team has been on a roll since October, thanks to their unbeaten run in the 2023 Men's ODI World Cup.

The dominating run of winning ten games on the trot has meant that two-time champions India have stormed into the title clash, where they face a mighty Australia at the Narendra Modi Stadium on Sunday.

Here is a look at India's unbeaten journey into the 2023 Men's World Cup final, where they have travelled extensively and given tons of happiness to their loyal fans with sterling performances.

Match 1, October 8: India beat Australia by six wickets in Chennai

Match 2, October 11: India beat Afghanistan by eight wickets in New Delhi

Match 3, October 14: India beat Pakistan by seven wickets in Ahmedabad

Match 4, October 19: India beat Bangladesh by seven wickets in Pune

Match 5, October 22: India beat New Zealand by four wickets in Dharamsala

Match 6, October 29: India beat England by 100 runs in Lucknow

Match 7, November 2: India beat Sri Lanka by 302 runs in Mumbai

Match 8, November 5: India beat South Africa by 243 runs in Kolkata

Match 9, November 12: India beat The Netherlands by 160 runs in Bengaluru

Semi-final, November 15: India beat New Zealand by 70 runs in Mumbai

Conclusion:

Rahul Dravid's transformation from a legendary batter to a coaching great has been a testament to his dedication and passion for the sport.

His journey as a coach has been shaped by his illustrious career as a player and his ability to adapt and evolve.

Dravid's coaching style reflects his own playing style, with an emphasis on the process, building a strong foundation, and nurturing young talent.

As the Indian cricket team vies for the World Cup trophy under his guidance, Dravid's impact on the team's success is uncomparable. Whether they emerge victorious or not, Dravid's legacy as a coaching great is secure.